219 Selections in IIT JEE (MAIN) 2017
1 out of every 3 Avanti students pan-India cleared JEE (Main)
Success Stories
Avanti students who inspire many more
AIR 36
IIT JEE Mains
Computer Science, IIT Madras
Avanti helped me learn how to solve challenging
problems. This continues to help me excel at IIT Madras
MIT, USA
2 Cr. Scholarship
Major in Computer Science
I've lived my whole life in Kanpur. I would credit the Avanti
team for helping me get this opportunity to study abroad
See our detailed results here
Why Avanti

24/7 access to learning material
Students can access Avanti content and reports, and take tests through our online portal anytime, anywhere

Small batch size for individual attention
We maintain a batch size of 25-30 students to ensure that each student gets personal attention

Comprehensive study package created by IIT/NIT alumni
Each student gets Avanti study material which includes a variety of practice questions and detailed class notes

Faculty from country's best colleges
Avanti teachers come from India's best engineering and medical institutes, with top ranks in JEE/NEET and other competitive exams

Digital content with over 400 hrs of HD video
Avanti provides students with crisp, easy to understand concept videos covering the entire syllabus

Test Series with detailed diagnostic reports
We analyze the student performance regularly and generate detailed diagnostic reports so that the students clearly know where to focus.
Online Learning
Learn with India's most loved Science and Maths videos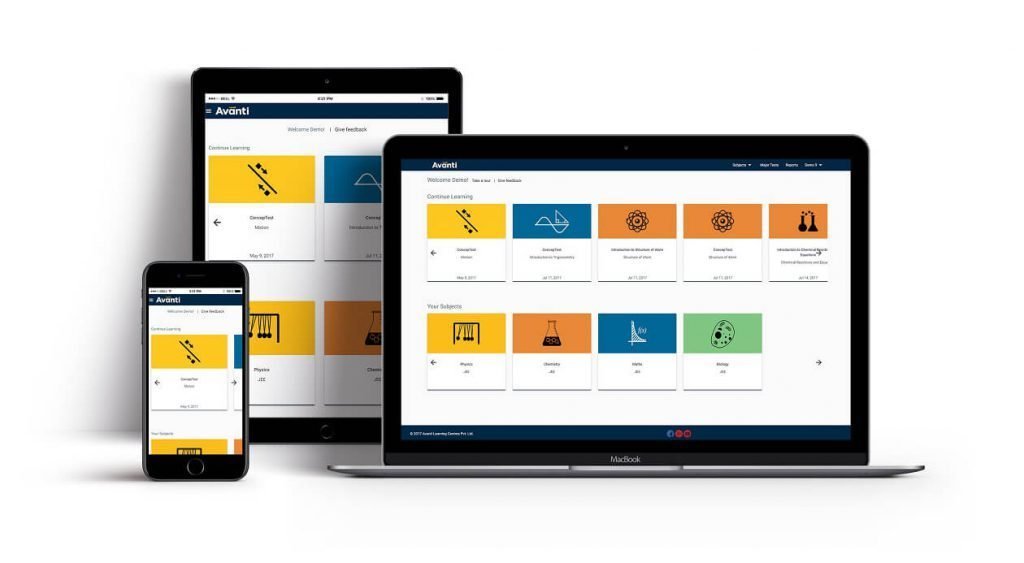 Learning Management System
Learn online with India's best Science and Maths teachers. Over 250+ hours of short, easy to understand videos including animations, illustrations, and simulations to make learning fun.
Contact us
You can reach out to us at:
Find an Avanti Centre near you