In this video, we will revise seventh chapter of Science – Control and Coordination.
You can now see on your screen the concepts that we will discuss in this video.
Structure and functioning of a neuron

Reflex arc

Human brain

Chemical coordination in plants

Chemical coordination in humans
Let us now quickly revise this chapter.
1. Structure and Functioning of a Neuron
Neurons, or nerve cells, are located in sense organs and are responsible for detecting all information from our environment. A nerve cell consists of dendrite, axon and nerve endings.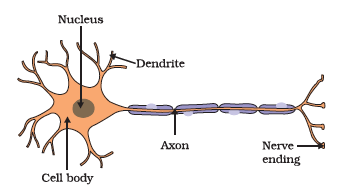 The information acquired at the end of the dendritic tip of a nerve cell starts a chemical reaction, creating an electrical impulse.

This impulse travels from the dendrite to the cell body, and then along the axon to its end.

At the end of the axon, the electrical impulse sets off the release of some chemicals.

These chemicals cross the gap, or synapse, and start a similar electrical impulse in a dendrite of the next neuron.

This is how the nerve impulses travel in the body.
2. Reflex Arc
Normally when we have to respond to any change around us, the path that is taken is:
Our sense organs detect the change > it is passed on to the brain via the spinal cord > brain decides action to be taken > it sends decision to muscles via the spinal cord
But sometimes, some changes take place in our surroundings as a result of which we have to respond in a very short interval of time, like touching a hot utensil, a lion running towards us etc. if at this time of urgency, our body goes through normal thinking pathway, it would be too late before we take any action! Thus in such situations, a shorter path – called 'reflex arc' comes into picture. Thus we say that a reflex arc is a neural pathway that controls a reflex.
Reflex arc can be shown diagrammatically as: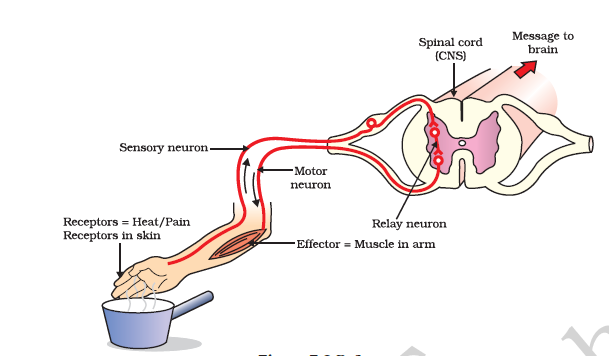 As you can see, reflex arc doesn't involve the brain. Thus, we are able to eliminate two steps from our actual decision making pathway and thus, take faster decisions.
3. The Human Brain
We know that we are thinking beings, and thinking involves very complex mechanisms. These take place in the brain. Different parts of the brain are responsible for inferring and taking different decisions.
Human brain is an important topic from exam point of view, and we suggest that you read it thoroughly. A 5 mark question in this years' CBSE sample paper appeared on Human brain. To read this topic in detail, you can watch the video shown on top right corner of your screen.
4. Chemical coordination in plants
You must be knowing that plants do not have a nervous system like us, or even eyes, nose, ears, etc, but they still sense things.
For example, a sunflower senses position of a sun and always faces it. Touch me not plant senses touch, and folds up as soon as we touch it
Based on what is the stimulus, and the type of movement (whether they are growth-related or not), they are categorized in different groups. 
Movements which are directional in nature are called tropic movements, while non-directional movements are termed as nastic movements. How movements are termed based on stimulus, you can now see on your board.
Tropic movements

Stimulus

Response

Example

Light

Phototropism

Stem tries to bend in direction from where light is falling

Gravity

Geotropism

Roots try to grow in direction of gravity, shoot tries to grow in direction opposite to gravity

Water

Hydrotropism

The roots always move towards water

Touch

Thigmotropism

Pea plants climb up around other plants

Chemicals

Chemotropism

Growth of pollen tubes towards ovules

Nastic movements

Touch

Thigmonasty

Leaves of a mimosa plant closing due to touch

Light

Photonasty

Dandelion flower closes its petals during daytime and closes during night-time
Plant hormones
So how do plants sense these changes in their environment!?
They do so with the help of hormones.
In this chapter, two types of hormones have been dealt with – growth promoters and growth inhibitors. These are:
Growth promoters –

Auxins

Gibberellins

Cytokinins

Growth inhibitor –

Abscisic acid
You can see major functions and significance of each of these hormones on your screen now.
Auxins –
Promote cell enlargement, cell differentiation and fruit growth

Responsible for phototropic and geotropic responses of the plant

It speeds up growth in stem but slows down growth in roots

It is synthesized at the shoot tip
Gibberellins –
Promotes growth in presence of auxins

Stimulates elongation of shoots
Cytokinins –
Promote cell division

Present in greater concentration in fruits and seeds
Abscisic acid –
Promotes dormancy in seeds and buds

Also promotes closing of stomata

Promotes wilting and falling of leaves
5) Chemical coordination in humans
we saw that our nervous system uses very high speed electrical impulses to convey information to different parts of our body. However, the nervous system doesnt reach and every cell of our body. Also, every neuron needs a time gap between two impulses – i.e., after a neuron generates a signal, it needs sometime before it can generate a second signal.
Because of these limitations, our body has a second type of coordination system – the chemical coordination system, and hormones have a major role to play in this.
Various endocrine glands present in our body secrete various hormones, which have different functions.
On your board now, you can see human endocrine system, followed by name, location and function of some glands. Make sure you study these thoroughly, as they can be asked in exam.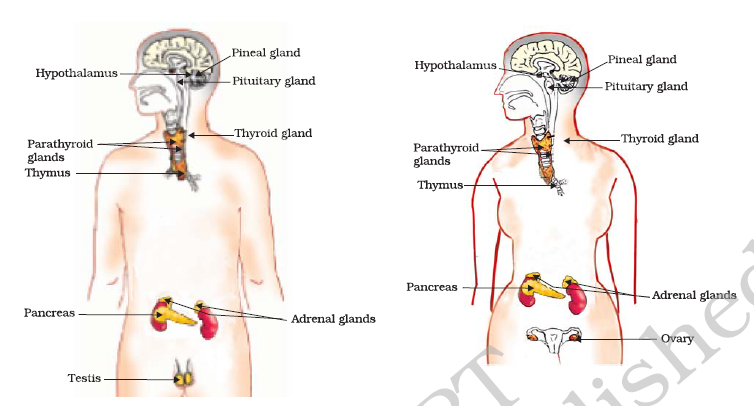 Endocrine glands in Human Beings
| | | | |
| --- | --- | --- | --- |
| Gland | Location | Hormone(s) secreted | Function of hormone |
| Hypothalamus | In the brain | Produces 'releasing hormones' and 'inhibitory hormones' | Regulates the secretion of hormones from pituitary gland |
| Pituitary gland | Below the brain | Produces many hormones, including 'growth hormone' | Growth hormone controls the development of bones and muscles |
| Thyroid gland | Attached to wind-pipe | Thyroxine (contains iodine) | Control the rate of metabolism of fats, carbohydrates and proteins |
| Parathyroid gland | Embedded in thyroid glands | Parathormone | Regulate calcium and phosphate levels in blood |
| Pancreas | Below the stomach | Insulin | Regulate blood sugar level |
| Adrenal glands | Top of kidneys | Adrenaline | Regulate heart rate, breathing rate, blood pressure |
| Testes | Scrotum (only in males) | Testosterone | Control development of male sex organs and features |
| Ovaries | Abdomen (only in females) | Oestrogen and progesterone | Control development of female sex organs and features |
If the amount of any hormone decreases or increases, it can have serious repercussions. For example, if growth hormone is secreted in excess, height of a person increases drastically, leading to a giant. If the amount decreases, it can lead to a condition known as dwarfism, or a person with short height. Thus, the amount of each of these hormones is controlled by some specific feedback mechanisms.
Let us now understand this chapter's weightage.
In previous years, questions of 1, 2, 3 as well as 5 marks have been asked from this chapter. Thus, to score full marks in this chapter, we suggest that you read this chapter from NCERT thoroughly, as it has some small details which can be asked, like names and functions of hormones, etc.
Also do remember to practice drawing every diagram atleast once, as they have been asked in previous exams.
You can now see all questions appearing in previous years' papers on your screen now.
Previous Years' Questions
1 mark:
How is the spinal cord protected in the human body? [CBSE 2010]
2 Marks:
What are hormones? Name the hormone secreted by thyroid and state its function. [CBSE 2010]
3 Marks:
What is 'phototropism'? How does it occur in plants? Describe an activity to demonstrate phototropism. [CBSE 2009]
5 Marks:
(A) Draw the structure of a neuron and label the following on it: [CBSE 2008]
      Nucleus, Dendrite, Cell body and Axon
(B) Name the part of neuron:
      (I) where information is acquired.
      (II) through which information travels as an electrical impulse.
To download all previous years' questions, follow the link given in description.
For more such updates, stay tuned and happy learning!