Concepts to be Covered
Hello friends,
In this video, we will revise 15th chapter of Science – Our Environment.
In this video, we will be discussing following topics:
Ecosystem

Producers, consumers and decomposers

Food chain

Food web

Biological magnification

Ozone layer and its depletion

Previous Years' Questions
Let us now start revising this chapter
1. Ecosystem
All the interacting organisms in an area together with the non-living constituents of the environment form an ecosystem, i.e., the living and non-living things together constitute an ecosystem. For example, a garden, an aquarium, a forest, etc form an ecosystem.
2. Producers
Also known as autotrophs, they fix up the solar energy and make their own food.
Consumers
These are the organisms that consume the food prepared by autotrophs, and constitute herbivores and carnivores
Decomposers
These are the organisms that decompose or break down complex substances into simpler ones.
3. Food chain
If you notice in our environment, you can see a series of organisms feeding on one another, known as food chain.
Forming a food chain
Let us now try forming a food chain ourselves!
Each step or level of food chain forms a trophic level.
The autotrophs form the first trophic level
Herbivores or primary consumers come at the second
Small carnivores or secondary consumers come at third
Large carnivore or tertiary consumers are placed at the top
This can be represented in the form of a pyramid, as shown below: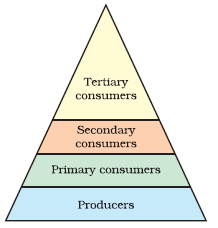 For example, a food chain can be represented as:
Grass > grasshopper > frog > snake > eagle

Energy transfer in a food chain
Let us now see how energy transfer takes place in a food chain.
The green plants capture about 1% of the energy of sunlight that falls on their leaves and convert it into food energy.
Then green plants are eaten by primary consumers, and an average of 10% of the food eaten is turned into its own body and made available for the next level of consumers.
Therefore, 10% can be taken as the average value for the amount of organic matter that is present at each step and reaches the next level of consumers.
4. Food web
Now, you all would know that one organism is eaten by more than one organism, which in turn are eaten by several other organisms. So instead of a straight line food chain, the relationship can be shown as a series of branching lines called a food web.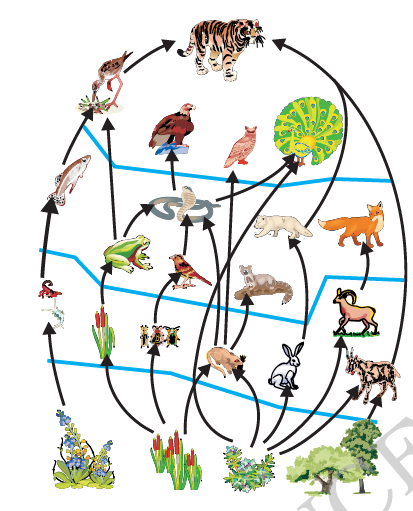 5. Biological Magnification
You all would know that we are actively using pesticides and other chemicals these days for increasing our crop yield. When these crops or plants are consumed by consumers, these chemicals end up accumulating in their bodies. As human beings occupy the top level in any food chain, the maximum concentration of these chemicals get accumulated in our bodies. This phenomenon is known as biological magnification.
6. Ozone layer and its depletion
Ozone (O3) is a combination of 3 atoms of oxygen, and is present in the upper layers of our atmosphere. It protects us from harmful UV radiations of the sun.
Formation of ozone – The higher energy UV radiations split apart some molecular oxygen (O2)into free oxygen (O) atoms, which combine with the molecular oxygen to form ozone as shown: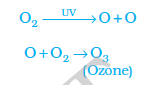 However, the amount of ozone is getting depleted slowly due to some harmful chemicals like chlorofluorocarbons (CFCs). UV radiation is highly damaging to organisms, for example, it is known to cause skin cancer in human beings, therefore we should take care of ozone layer.
Previous Years' Questions
Let us now understand this chapter's weightage.
Mostly, questions of 1 or 3 marks are asked from this chapter. You can now see all previous years' questions from this chapter on your screen now.
1 Mark Questions
Which compounds are responsible for the depletion of ozone layer?

[CBSE,2009]

What will be the amount of energy available to the organisms of the 2nd trophic level of a food chain, if the energy available at the first trophic level is 10,000 joules?

[CBSE,2015]

The depletion of ozone layer is a cause of concern. Why?

[CBSE,2016]

In the following food chain, 100 J of energy is available to the lion. How much energy was available to the producer? Plants → Deer → Lion

[CBSE,2017]

Name two gases, other than carbon-di-oxide, that are given out during burning of fossil fuel and contribute towards acid rain formation.

[Sample Paper 2008]

When plants are eaten by primary consumers, a great deal of energy is lost as heat to the environment and some amount goes in carrying out various life processes. State the average percentage of energy lost in this manner. 

[Sample Paper 2010]
2 Marks Questions
List two main causes of the pollution of water of the river Ganga. State how pollution and contamination of river water prove harmful for the health of the people of neighbouring areas.

[CBSE,2015]

Study carefully the food chains given below : 

Food chain I : grass – grasshopper – frog
Food chain II : wheat – rat – snake – hawk
To which of the two consumers, snake or hawk will more energy (percent) be available and why? [Sample Paper 2008]
3 Marks Questions
How is ozone formed in the upper atmosphere? Why is damage to ozone layer a cause of concern to us? What causes this damage?

[CBSE,2008]

Explain the phenomenon of "biological magnification." How does it affect organisms belonging to different trophic levels particularly the tertiary consumers?

[CBSE,2010]

Differentiate between biodegradable and non-biodegradable substances with the help of one example each. List two changes in habit that people must adopt to dispose non-biodegradable waste, for saving the environment. 

[CBSE,2015]
The activities of man had adverse effects on all forms of living organisms in the biosphere. Unlimited exploitation of nature by man disturbed the delicate ecological balance between the living and non-living components of the biosphere. The unfavourable conditions created by man himself threatened the survival not only of himself but also of the entire living organisms on the mother earth. One of your classmates in an active member of 'Eco club' of your school which is creating environmental awareness amongst the school students spreading the same in the society and also working hard for preventing environmental degradation of the surroundings. [CBSE,2016]
Why is it necessary to conserve our environment?

State the importance of green and blue dust-bins in the safe disposal of the household waste.
5. Make an aquatic food chain up to tertiary consumer level. State the trophic level at which concentration of pesticide is maximum and why? [Sample Paper 2010]
5 Marks Questions
Study the picture given below and comment on the encircled organisms with respect to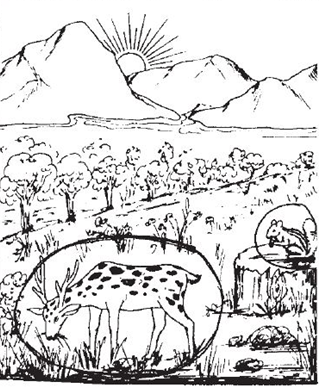 the category according to the food they eat.

trophic level to which they belong.

percentage of energy available at their trophic level.

two abiotic components of the ecosystem inhabited by them.
energy used for food production by the producers. [Sample Paper 2008]
2. A. "Improvements in our lifestyle have resulted in greater amounts of waste generation." Give two examples to support the given statement. Suggest one change that we can incorporate in our lifestyle in order to reduce non-biodegradable waste.
B. The following organisms form a food chain.
Insect, Hawk, Grass, Snake, Frog
Which of these will have highest concentration of non-biodegradable chemicals? Name the phenomenon. [Sample Paper 2018]