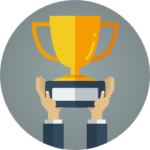 In the history of JEE Main, the year 2017 turned out to be the golden year as Kalpit Veerwal of Udaipur completed with a fantabulous performance by scoring 360/360 in JEE Main 2017 and ended up as JEE Main Topper,bagging AIR 1. Before him, no one had done this miraculous job. The boy is extremely good at academics and sports. Topper of Indian Junior Science Olympiad, NTSE, and KVPY, Kalpit Veerwal shared a lot about his routine, strategies and special preparations. Want to know? Read the complete interview of JEE Main topper 2017 here. Watch the interview of JEE Main topper Kalpit Veerwal and learn how he managed to score 360/360 in JEE Main 2017. To learn his best strategies click the link given here.
List of Top 10 JEE Main Rankers
Ranks for JEE Main are not calculated by accounting the Paper 2 result. Rank is solely based on the performance of candidates in paper 1.
All India Rank
Name
Score
Interview link
Success mantra

AIR 1

Kalpit Veerwal

360

JEE Main AIR
1

My success mantras are confidence, focus and hard work

AIR 2

Vasu Jain

350

JEE Main AIR 2

I think the credit for my success goes to my focusing on quality rather than on quantity.

AIR 3

Ananay Agarwal

350

JEE Main AIR 3

I tried my best to keep myself calm and compose on the examination day that helped me perform better. I believe that one should not carry stress and anxiety inside the examination hall because that no way helps.

AIR 4

Vedant Raval

345

JEE Main AIR 4

Positive inspiration and regular studies are the major factors for my success.

AIR 5

Vishwajeet Agarwal

345

JEE Main AIR 5

I had no fixed schedule that I followed for my study regime. Mostly I used to study in afternoon and evening.

AIR 6

Mohan Abhyas

345

JEE Main AIR 6

Time management is something challenging, if we can manage that well, nothing like it. My learning is that we must take the easiest sections and questions first which helps us in building confidence

AIR 7

Akshat Chugh

345

 JEE Main AIR 7

AIR 8

Shafil Maheen

345

 JEE Main AIR 8

AIR 9

Varun Teja Chaudhury

345

 JEE Main AIR 9

AIR 10

Anany Sharma

340

JEE Main AIR 10

In my success, the biggest contributor is my focus on my target and studies
Tips to crack IIT JEE from JEE Main Topper
Here are some success mantras of JEE Main Topper to crack JEE Main exam.
Have a plan and stick to it:
The very first step to be successful at anything is to get focused. You should have a plan and a fixed routine, in which you strike a balance between everything, depending on your strengths and weaknesses. Be judicious in deciding the time you put for your preparation, your sleep and other daily activities. You should be diligent, remember that there are thousands of students preparing along with you, thus to ensure that you are a step ahead, you should be industrious and focused: it will help you to secure a good rank in your final exam and may be you can even end up being a JEE Main Topper.
Devote time to self-study:
You have a reached a point in time, when no spoon feeding will be done. You should learn to help yourselves and self-study, apart from school and coaching classes. A regular study of 6-7 hours apart from coaching classes and school will be fruitful.
For more study tips from IIT JEE Main Topper, Click on the link below:
Frequently Asked Questions (FAQs)