Concepts to be Covered
Hello everyone!
Today we will revise 16th chapter of science – Management of Natural Resources.
In this video, we are going to cover the following concepts:
Why we need to save resources

The three R's to save our environment

Stakeholders

Chipko movement and restoration of Arabari forest

Sustainable management

Dams – advantages and disadvantages

Water harvesting

Coal and Petroleum

Previous Years' Questions
1. Why we need to save resources
All the objects that you can think of – water you drink, paper you write on, computer or mobile you use, the road that you walk on – have been obtained from natural resources found on Earth. However, the worry is that these resources are in limited quantity on our planet. If we keep on consuming them at the present rate, they will end very soon and our coming generations will be left with nothing. Another thing to be considered is the damage that we cause to our environment while extracting these resources. We are going to see how to save our resources in this chapter.
2. The three R's to save our environment
Reduce: This means that you use less. You save electricity by switching off unnecessary lights and fans.

Recycle: This means that you collect plastic, paper, glass and metal items and recycle these materials to make required things instead of synthesising or extracting fresh plastic, paper, glass or metal.

Reuse: In the 'reuse' strategy, you simply use things again and again. Like the plastic bottles in which you buy various food-items like jam or pickle can be used for storing things in the kitchen.
3. Stakeholders
Stakeholders of a Forest
Let us understand what stakeholders mean, by taking the example of a forest.
Stakeholders of a forest are people who are dependent or associated with it in any way, or own the forest or land.
Thus, the stakeholders of a forest can be:
the people who live in or around forests are dependent on forest produce for various aspects of their life

the Forest Department of the Government which owns the land and controls the resources from forests.

the industrialists – who use various forest produce,

the wild life and nature enthusiasts who want to conserve nature in its pristine form.
Now if we want to save forests, we need to ensure that all stakeholders use it in a sustainable manner and do not exploit it beyond repair.
4. Chipko Movement and Restoration of Arabari Forest
Now we will study two stories where participation of local people led to better management of forests.
Chipko Movement
The Chipko Andolan ('Hug the Trees Movement') originated in a remote village called Reni in Garhwal, during the early 1970s. There was a dispute between the local villagers and a contractor who had been allowed to fell trees in a forest close to the village. On a particular day, the contractor's workers appeared in the forest to cut the trees and the women of the village reached the forest quickly and clasped the tree trunks thus preventing the workers from felling the trees. The Chipko movement quickly spread across communities and media, and forced the government, to whom the forest belongs, to rethink their priorities in the use of forest produce.
The case of West Bengal
In west bengal, Sal forests had been degraded due to improper use. An officer, A.K. Banerjee, saw this and started involving villagers in the protection of badly degraded sal forest. In return for help in protection, villagers were given employment, 25 per cent of the final harvest, and allowed fuelwood and fodder collection on payment of a nominal fee. With the active and willing participation of the local community, the sal forests of Arabari underwent a remarkable recovery – a previously worthless forest was valued Rs 12.5 crores.
5. Sustainable Management
We have seen that resources are in limited amount on our planet and many people or stakeholders need them. But we also cannot exhaust everything right now, because then what would be left for our generations?
So the concept of sustainable management comes into picture. It states that we should use our resources such that our present needs are met, while saving enough resources for future generations.
6. Dams
advantages and disadvantages – as you all would know, that a large number of farmers in our country are dependent on rains or monsoons for irrigation. However, rains are not regular and hence there should be a reliable source of water. This problem can be solved by building dams.
Disadvantages of dams:
Large dams can ensure the storage of adequate water not just for irrigation, but also for generating electricity.  However, in spite of these benefits, dams have some disadvantages, which are:
Social problems – Dams displace large number of peasants and tribals without adequate compensation or rehabilitation

Economic problems – Dams swallow up huge amounts of public money without the generation of proportionate benefits

Environmental problems – Dams contribute enormously to deforestation and the loss of biological diversity.
Due to these problems, there have been many movements by people like Narmada Bachao Andolan, or construction of Tehri Dam on river Ganga.
7. Water Harvesting
Water harvesting is another way in which we can manage our water needs properly. Since ancient times, many communities have used hundreds of indigenous water saving methods to capture every trickle of water that had fallen on their land; dug small pits and lakes, put in place simple watershed systems, built small earthen dams, constructed dykes, sand and limestone reservoirs, set up rooftop water-collecting units. This has recharged groundwater levels and even brought rivers back to life.
Let us see an example of a structure used for watershed management.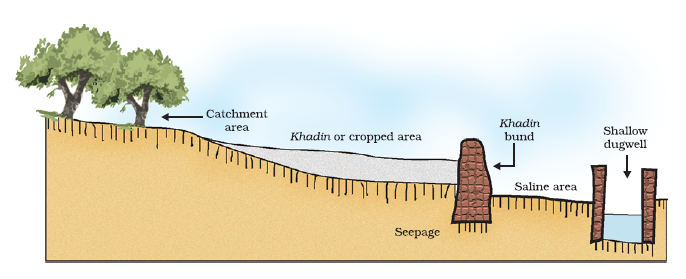 In largely level terrain, the water harvesting structures are mainly straight concrete-and rubble "check dams" built across seasonally flooded gullies. Monsoon rains fill ponds behind the structures.  These structures then recharge the ground-water beneath.
Advantages of storing water in ground
The advantages of water stored in the ground are:
It does not evaporate, but spreads out to recharge wells and provides moisture for vegetation over a wide area.

It does not provide breeding grounds for mosquitoes like stagnant water collected in ponds or artificial lakes.

The ground-water is also protected from contamination by human and animal waste.
8. Coal and Petroleum
These were formed in millions of years, from decomposition of dead remains of living organisms. We have been heavily using them for our increasing energy needs. However, it is a big problem as these have limited reserves and will end soon, if we keep on using them at present rate. Also, burning fossil fuels causes lot of pollution and greenhouse effect. Since coal and petroleum have been formed from bio–mass, these contain hydrogen, nitrogen and sulphur. When these are burnt, the products are carbon dioxide, water, oxides of nitrogen and oxides of sulphur. When combustion takes place in insufficient air (oxygen), then carbon monoxide is formed instead of carbon dioxide. Of these products, the oxides of sulphur and nitrogen and carbon monoxide are poisonous at high concentrations and carbon dioxide is a green-house gas. Also, coal and petroleum are huge reservoirs of carbon and if all of this carbon is converted to carbon dioxide, then the amount of carbon dioxide in the atmosphere will increase leading to intense global warming. Thus, we need to use these resources judiciously. Therefore, we should move on to renewable, environment friendly sources of energy.
We can do this by following ways:
(i) Taking a bus or public transport than our own cars
(ii) Taking the stairs than taking a lift
(iii) Switching off unnecessary lights and fans
Previous Years' Questions
Let us now understand this chapter's weightage. Questions of 2 and 3 marks have a higher probability of being asked from this chapter.
1 Mark Questions
Which one of the following is a renewable resource? Natural gas, Petroleum, Ground water, Coal [CBSE,2008]
2 Marks Questions
What is 'Chipko Movement' Why should we conserve forests? [CBSE,2009]
Suggest any four changes that you would like to be incorporated in the life-style of students of your age to move towards a sustainable use of available resources. [CBSE,2009]
What is biodiversity? What will happen if biodiversity of an area is not preserved? Mention one effect of it. [CBSE,2015]
"What was Chipko Andolan"? How did this Andolan ultimately benefit the local people and the environment? [CBSE,2016]
"Burning of fossil fuels results in global warming". Give reasons to justify this statement. [CBSE,2016]
State two advantages of conserving (i) forests, and (ii) wild-life. [CBSE,2017]
Explain two main advantages associated with water harvesting at the community level. [CBSE,2017]
3 Marks Questions
1.  A. Water is an elixir of life, a very important natural resource. Your Science teacher wants you toprepare a plan for a formative assessment activity, ''How to save water, the vital natural resource''. Write any two ways that you will suggest to bring awareness in your neighbourhood, on 'how to save water'.
B. Name and explain any one way by which the underground water table does not go down further. [CBSE,2017]
2.  Why are environmentalists insisting upon 'sustainable natural resource management'? Give any three reasons. [Sample Paper 2008]
3. Some residents of your colony are planning to cut trees to create a place for parking vehicles. You are upset by knowing all this and wanted to do something to create awareness about the importance of tress.
A) List any three reasons that you will use to convince residents of your colony not to cut the existing trees.
B) List any three values that would be inculcated amongst them with such. [Sample Paper 2017]
5 Marks Questions
1.  A. What do you understand by "Watershed Management"? List any two advantages of watershed management.
B.  "Human beings occupy the top level in any food chain." What are the consequences of this on our body? [Sample Paper 2018]