Concepts to be Covered
Hello friends,
In this video, we will revise fourteenth chapter of Science – Sources of Energy.
In this video, we will be discussing following concepts:
Good source of energy

Types of Sources of energy – Conventional and non-conventional

Conventional sources of energy –

Fossil fuels

Thermal power plants

Hydro power plants

Biomass

Wind energy
Non – conventional sources of energy
Solar Energy

Energy from the sea –

Tidal energy

Wave energy

Ocean thermal energy

Geothermal Energy

Nuclear Energy

Environmental Consequences

Previous Years' Questions
1. Good source of energy
First thing to study in this chapter, is how to identify a good source of energy. These are the characteristics of a good source of energy:
Characteristics of a Good Fuel:
provide a large amount of continuous supply of energy per unit mass or volume.

cheap and easily available.

safe to store and easy to transport.

should not pollute the environment.

moderate ignition temperature.

economical
2. Types of sources of energy
Sources of energy are basically of two types-
Conventional sources -sources of energy which have been in use for a long time. For e.g., coal, petroleum, natural gas etc.

Non-conventional sources – sources of energy which are yet in the process of development. They are renewable and ecologically safe. For e.g., solar energy, tidal energy etc.
3. Let us now study about different conventional sources of energy
Fossil fuels – Fossil fuels are conventional sources of energy. Let us quickly look at some important points about fossil fuels:

Formed by decomposition of dead remains of living organisms.

Take millions of years for their formation and very difficult to replenish.

Therefore, they are non-renewable sources of energy.

Uses –

Used in gas stoves for cooking.

Fuel in vehicles

For generating electricity

In various industries

Disadvantages-

Non-renewable source, hence may exhaust in near future

Harmful chemicals like oxides of carbon, nitrogen and sulphur are released on burning fossil fuels

Causes air pollution and acid rains

Causes greenhouse effect

threaten the ecological balance of the areas around fuel extraction
Let us now see how fossil fuels are used in industries for generating electricity.

The simplest turbines have one moving part, a rotor-blade assembly.

The moving fluid acts on the blades to spin them and impart energy to the rotor.

Thus, we see that basically we need to move the fan, the rotor blade, with speed which would turn the shaft of the dynamo and convert the mechanical energy into electrical energy.
This similar principle is used in thermal and hydro power plants.
b. Hydro Power Plants – Hydro power plants convert the potential energy of falling water into electricity.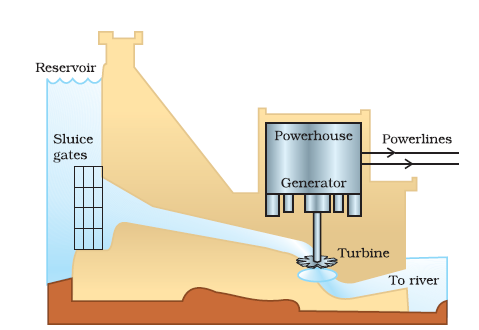 high-rise dams are constructed on the river to obstruct the flow of water

Water is collected in large reservoirs.

The water level rises and the kinetic energy of flowing water gets transformed into potential energy.

Water is carried to turbine (which is at the bottom), through pipes.

These turbines are then connected to generator and powerhouse, and the electricity is supplied through power lines.
Since the water in the reservoir would be refilled each time it rains, it is a renewable source of energy.
Disadvantages of constructing dams
These are few disadvantages of constructing dams due to which construction of Tehri Dam on the river Ganga and Sardar Sarovar project on the river Narmada  was also opposed.
Dams can be constructed only in a limited number of places, preferably in hilly terrains

Large areas of agricultural land and human habitation are to be sacrificed.

Large ecosystems are destroyed when submerged under the water in dams.

Release of large amounts of methane, due to submerged vegetation, which increases greenhouse effect.

Problem of rehabilitation of displaced people.
Biomass
The animal and plant products, which are sources of fuel, are known as biomass. For example, cow dung cake is used as fuel for various household purposes. But these fuels produce less heat, and more smoke. Therefore, new methods are used to make them more efficient. For example –
Charcoal is produced when wood is burnt in a limited supply of oxygen and water. Charcoal burns without flames, is comparatively smokeless and has a higher heat generation efficiency.

Another way is to produce biogas by decomposing cow dung cakes, agricultural wastes, vegetable wastes and sewage, in the absence of oxygen. Here you can see the structure of a biogas plant –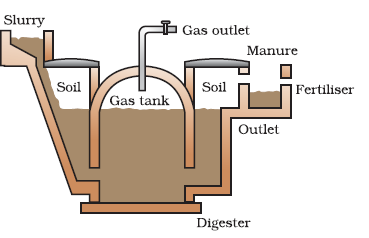 Structure and working of a Biogas plant
Slurry is made by mixing animal dung with an equal amount of water in a mixing tank.

Slurry is fed into the underground digester tank through a sloping inlet chamber.

Anaerobic microorganisms that do not require oxygen to decompose or break down complex compounds of the cow dung slurry to produce bio gas in the digester.

The produced biogas is collected inside the dome built over the digester tank.

As more and more biogas starts collecting, the pressure exerted by the biogas increases. This forces the spent slurry into overflow tank via outlet chamber.

The collected biogas is taken out through the outlet valve and is supplied wherever required.

The spent slurry is periodically removed and is used as a manure for plants.

To get continuous supply of gas, a prepared slurry is fed into the plant regularly.
Biogas is considered as a good fuel and these are the reasons for it –
Advantages of Biogas
high calorific value.

burns without smoke, leaves no residue and therefore causes no atmospheric pollution.

slurry left behind is used as an excellent manure, rich in nitrogen and phosphorus.

can be produced anywhere with less production cost and does not involve any running cost.

provides a safe and efficient method of waste disposal.
Wind Energy
The kinetic energy of wind is used to do work. For example- a windmill is a turbine which rotates due to the force exerted by wind on its adjustable blades.In a windmill, the kinetic energy of wind can be either used to do some useful mechanical work or to generate electricity.
Advantages and Disadvantages of harnessing Wind Energy
environment-friendly

efficient source of renewable energy.

no recurring expenses for the production of electricity.
Limitations of harnessing wind energy-
wind energy farms can be established only at those places where wind blows for the greater part of a year.

The wind speed should be higher than 15 km/h

need some backup facilities (like storage cells) for the energy needs when there is no wind.

Requires large area of land.

Requires high level of maintenance.

Initial cost of set-up is very high.
4. Let us now study about different non-conventional sources of energy
Solar energy
Energy from Sun's radiations is known as solar energy. There is enormous amount of solar energy obtained everyday and being in India, we are lucky to receive solar energy for greater part of the year. Devices like solar cookers, solar water heaters etc. are used to obtain energy from sun for various purposes. But these devices can be used at times when there is sunlight outside.
To overcome this limitation, solar cells are used to convert solar energy into electricity.
There some advantages and some disadvantages of using solar energy. Some of these you can see here –
Advantages of solar cells:
The solar cells convert solar radiation directly into electricity.

cost effective in remote and inaccessible areas where cost of installation of other modes of energy (power transmission line) is very high.

have no movable parts and hence they don't need any maintenance.
Disadvantages of solar cells:
A single cell does not produce enough energy for practical uses.

The initial cost of installation of solar cells is very high.
Energy from the sea
We can also obtain energy from sea. This energy can be of three types –
Tidal Energy – You know that water level of sea rises and falls twice a day. This happens due to gravitational pull of the moon. This rise and fall of water level is known as tide. The energy produced due to difference in sea-levels is called tidal energy. This tidal energy can be harnessed by constructing a dam across some narrow opening in the sea. During high tides, the rising water enters the dam and then, the water is made to fall over turbines to generate electricity. 

But this generated electricity is not high enough to use on a large scale. Also, there are limited sites on the sea where dams can be constructed. Thus, tidal energy cannot be used as a major source of energy.

Wave energy- The strong winds blowing across the sea generate waves which possess huge kinetic energy, which can be used to generate electricity by rotating a turbine.

Ocean thermal energy – Next type of energy from sea is ocean thermal energy. This is the energy available due to the temperature difference between the warm surface of ocean and relatively cold water in deeper sections. The Ocean Thermal Energy (OTE) can be utilized to run Ocean Thermal Energy Conversion (OTEC) plant to produce electricity.

In OTEC plant, the energy of warm surface water is used to convert a volatile liquid like liquid ammonia into gaseous state.

The vapours of ammonia at high pressure are used to run the turbines of generators to produce electricity.

The used vapours pass through a condenser, where cold water pumped from the deeper parts of ocean condenses it to liquid again.

This process is repeated again and again to produce electricity continuously.
Another source of energy is geothermal energy. The energy obtained from hot molten rocks and hot fluid trapped inside the earth is called geothermal energy.
Due to geological changes, molten rocks formed in the deeper hot regions of earth's crust are pushed upward and trapped in certain regions called hot spots.

When underground water comes in contact with the hot spot, steam is generated.

Sometimes hot water from that region finds outlets at the surface. Such outlets are known as hot springs.

The steam trapped in rocks is routed through a pipe to a turbine and used to generate electricity.
Though the cost of production would not be much, but there are very few sites where such energy can be exploited.
Nuclear energy –
The energy produced during a nuclear reaction such as nuclear fission or fusion is called nuclear energy.
In the process of nuclear fission, the nucleus of a heavy atom (such as uranium, plutonium or thorium),when bombarded with low-energy neutrons, can be split apart into lighter nuclei.
When this is done, a tremendous amount of energy is released.
There are many advantages of nuclear energy. Some of these are:
A small quantity of nuclear fuel is needed to produce a large amount of useful energy.

Nuclear power plants produce less atmospheric pollution (less emission of greenhouse gases) than other power plants, if the nuclear fission reaction is performed properly.

It is a reliable source of energy. Unlike wind or solar energy, it can produce energy even in adverse weather conditions.
But there are also some disadvantages of this source of energy –
There is less availability of nuclear fuel (uranium) in our country.

Also, the construction of nuclear power plants and the cost of power generation is greater as compared to other sources of energy.

Mainly, there is high risk of environmental contamination (due to radioactive waste).
5. Environmental consequences
The demand for various sources of energy is increasing day by day. This increased demand has different consequences on our environment, such as- burning of fossil fuels causes air pollution and also increases greenhouse effect. Also, these sources are exhaustible in nature and may not be available in near future, if consumed at the current rate.
There are various renewable sources of energy such as solar energy, wind energy etc., which can be used to replace exhaustible and non renewable sources. But, then, the cost of installing their plants, their availability is not reliable.
Hence, we should try saving these fuels, if we want to save them for our future needs.
Previous Years' Questions
1 Mark Questions
1. How is the increasing demand for energy adversely affecting our environment? [CBSE, 2010]
2 Marks Questions
1. List any four characteristics of biogas on account of which it is considered an ideal fuel. [CBSE, 2008]
2. Discuss one limitation each for the extraction of energy from : [CBSE, 2008]
3. How is charcoal obtained from wood? Why is charcoal considered a better fuel than wood? [CBSE, 2009]
4. Describe how hydro-energy can be converted into electrical energy. Write any two limitations of hydro-energy. [CBSE, 2009]
5. What is the main constituent of biogas? How is biogas obtained from biomass? Write any two advantages of using this gas. [CBSE, 2010]
6. Mention any four limitations in harnessing wind energy on a large scale. [CBSE, 2010]
7. In the flow chart given below, fill in the blank spaces with the kind of energy available. [Sample Paper 2008]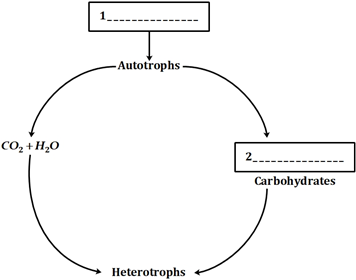 8. What is biogas? How is it obtained from biomass? Why is biogas considered an ideal fuel? [Sample Paper 2010]
9. Why is there a need to harness non-conventional sources of energy? Give two main reasons. [Sample Paper 2018]
To download all previous years' questions, follow the link given in description.
For more such updates, stay tuned and happy learning!